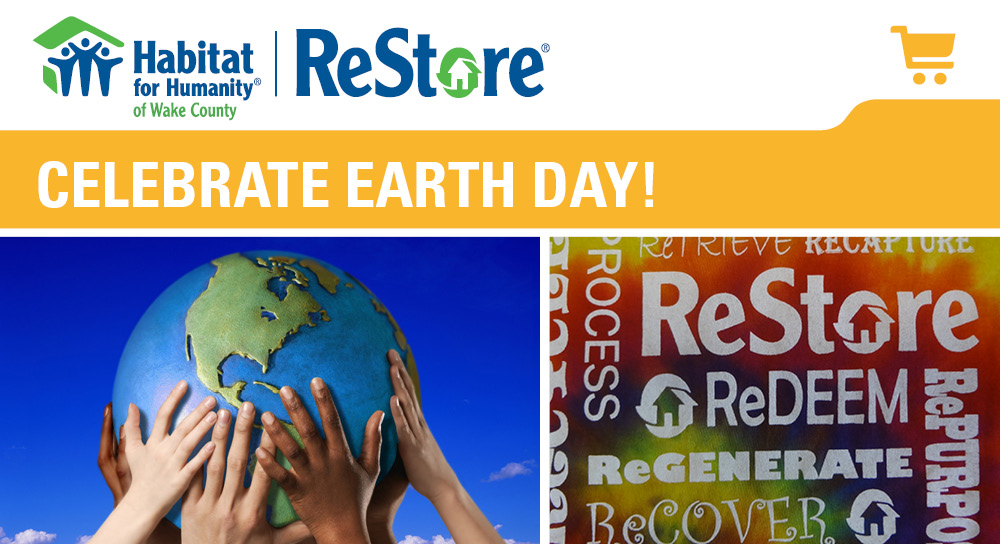 The celebration of Earth Day on April 22nd began in 1970, and has grown into a global event that is recognized around the world. Dedicating this day for the earth is a way to demonstrate how much we care about the future of our planet. No matter what you like to do best, there's a way to get involved in Earth Day. You could plant a tree, make a meal with locally-grown vegetables, educate friends or family members, clean up trash in your community or neighborhood — the possibilities are endless. Remember, you don't have to wait for Earth Day to show your love for the planet we call home.
Donate your unwanted goods to the ReStore! You've been thinking about decluttering and updating your space. Now is a great time to make it happen. Drop off your usable, gently worn items such as furniture, appliances and other home goods at any of our four ReStores in Raleigh, Cary, Apex, or Fuquay-Varina. If your items are too large, contact us to schedule FREE Pick Up service. You can click HERE to fill out the online form or call: 919-744-2420 to make convenient arrangements. We can only pick up in Wake County and please click HERE for our criteria list on acceptable items. Know that your materials will find reuse with a purpose.
Last year, Habitat Wake ReStores diverted over 4,200 tons of materials from being dumped in local landfills.
The ReStores encourages all of us to be good stewards of our environment by consider donating instead of dumping, and shopping for salvaged and repurposed materials that are economically friendly and sustainable.
Remember that Every Day is Earth Day. Anything to help our environment is a perfect thing to do on Earth Day and every day. Don't restrict yourself to just one day a year; learn about how you can make a difference to environmental protection all the time. It's going to take a lot of work to heal our planet. Leading by example will help others remember that the earth is important every day of the year.
Organize a Community Wide Donation Drive. Get together with your neighbors and community and organize a large donation drive that will help support the Wake ReStores. Everyone has something that they don't need any longer and what a better way to celebrate Earth Day than to recycle and repurpose with a purpose. We will help you with the necessary materials and schedule an all day event that is convenient. Click HERE for information on organizing a community wide donation drive for the Wake ReStores.
Commit to protecting local wildlife places. Whether you live near an ocean, river, forest, mountain, swamp or lake, wild areas need protection. They are home to many plants and animals who rely on them for food and shelter.
Donate your Unwanted Vehicle to Habitat for Humanity. Yes, Habitat for Humanity will gladly accept your unwanted vehicle, RV, boat or motorcycle and provide you with a tax deductible receipt! Your donation will go a long way to help support Habitat world wide. In addition, recycling your vehicle saves energy and natural resources. Click HERE for more information on how to donate your vehicle.
Clean up Litter in your Community. Many groups organize events in honor of Earth Day to clear roadways, highways and neighborhood streets of litter that has accumulated. Many companies donate gloves and bags for groups that participate in clean up events. Once the group has collected the trash and placed the recycled bags along the road, get the local public works department to retrieve the bags up. It's a wonderful community project that you can do as an individual or with a group. Plus, its a great way to beautify your community!
Click HERE for activities to share with children!
Make the best of Earth Day and every day by being considerate to our environment.
Topics:
Topics