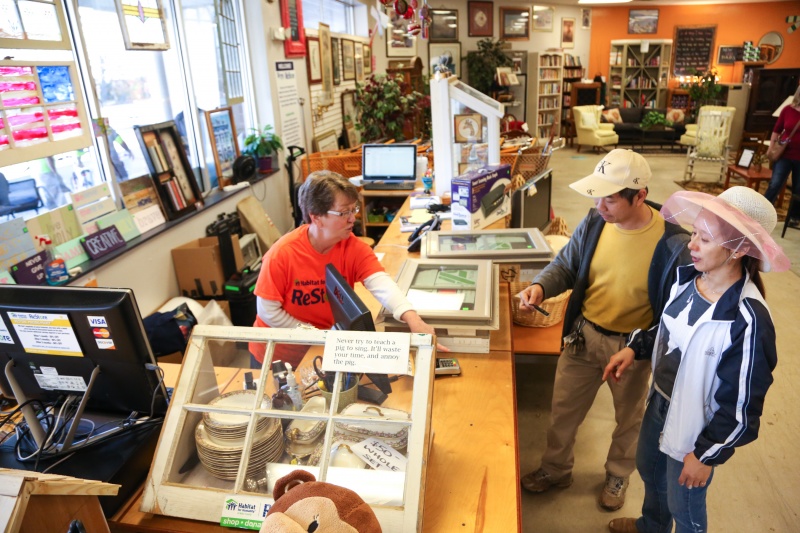 Below are some of our most frequently asked-about store policies. Our operations run largely on volunteer labor, so please be patient with our team as you need assistance. All proceeds support Habitat's mission to build affordable homes in our community, and we couldn't do it without our ReStore shoppers, donors and volunteers.
People in our local community donate most of the product in our store, and while we sincerely appreciate everyone who wants to donate to the ReStores, we aren't able to accept some items because of safety concerns or because they are difficult to sell. When we accept items that we cannot sell, we incur high dumpster fees, which reduces the money available to support our mission. For more information, please see our donation criteria list.
If you have any additional questions about the store policies, feel free to speak with a store manager or email restore@habitatwake.org.
1. Holding items:
We offer a one-hour courtesy hold on an item for in-person customers. We can't accept hold requests over the phone or on social media. The hold is designed to let customers arrange delivery transportation or verify measurements at home before returning to buy the merchandise.  Hold ticket must have a "Hold until" date and time in addition to the customer's name. The cashier keeps a table of all active holds and is responsible for removing hold tags from items promptly.
2. Sold tags and storage policy
If your merchandise cannot be loaded at time of purchase and must be picked up at another time, a ReStore associate will label it with a "SOLD" tag that is printed at the register. The customer must bring in their receipt to pick up merchandise -- the barcode on the sold tag will match the barcode on the receipt. Sold Items must be picked up within two business days. After this date, a $5/day storage fee will be accrued. The storage fee must be paid in full in order for the item to be released. All items not picked up within 7 store business days will be resold. The manager will give a reminder call to the customer before the 7-day mark. Our stores have very limited storage space and we want to make sure we are maximizing our sales floor and raising dollars for our mission.
3. Loading policy
Please bring your own help for loading out your purchase. Store associates are not able to secure, staple or tie merchandise down onto the customer's vehicle and they are not allowed to place any items on the roof of a vehicle. If a staff or volunteer does help load out the items, they are not liable for damages. Stores will ask customers to sign a waiver of liability.
4. Pricing policy
ReStore employees do not negotiate prices. However, we do have a great discount policy -- another good reason to come visit us on a regular basis! All pieces in the store will discount 20% on the 1st and 15th of every month, up to 60% off. 
If we are not open on the day the price changes, then the new price is effective the next day we are open. Again, prices are firm. Please refrain from putting our staff and volunteers in uncomfortable positions by attempting to bargain.
There are some exceptions to the discount system:
We do sell some new products. These will have a white tag and do not discount.
Items without tags - these are usually small items like glasses, dishes, or tile. There is generally a sign nearby with standard prices.
5. Returns policy
The ReStores will accept the return of any merchandise within 14 days of purchase date. Items must be returned to the original Habitat ReStore location where they were purchased.
Process:
Customer is responsible for bringing item back to the store of origin to complete return. The ReStores do not have ability to pick up return items.
All returned items must be accompanied by the original receipt and include original price tag.
Items must be in the same condition as when purchased, and the ReStores reserve the right to limit or refuse any return.
All returns must be approved and logged by a manager or other authorized personnel.
Returns will be refunded in the same payment type as they were originally purchased or store credit.  Returns can only be paid by one method (cash or credit card) not a combination.