This month and every month, Habitat Wake celebrates the women who further our mission of bringing people together to build homes, communities and hope. 
Since 2020, Emily George has been the Vice President of ReStore Operations for the Triangle ReStores. In her day-to-day, she oversees the success of the Triangle's 10 ReStores and the more than 60 employees who work there. Her journey to Habitat started back when boybands and frosted tips were trending: the 1990s. 
Emily started her career as a part-time sales associate, and unexpectedly discovered her passion for merchandising. From there, she took on leadership roles, opened new stores and brought existing stores to better performance. While serving in that capacity, Emily looked critically at core issues that were keeping teams from progressing, and that led her to operations, where she focused on leadership development.  
Enter Habitat for Humanity: "In 2019, like many others, I was at a crossroads and wanted to think about what was next," Emily says.  
"While I love traditional retail, I wanted to work with a company that gave back to the community in concrete ways. At Habitat, I can use the skills in retail to support affordable housing. This piece was the missing link, and I go to work every day inspired that every dollar we bring in supports our mission."  
Since entering the workforce back in the '90s, Emily has embraced and championed the effort to further workplace inclusivity.  
"Diversity was really not part of the conversation," Emily said of her early-career days. "The conversation has evolved over the years and has led to some very positive changes."  
Over the years, the power of mentorship has stuck with Emily. One mentor in particular helped to shape her into the leader she is today, she said.  
"I learned from watching her motivate teams, handle challenging conversations with grace and not being afraid to lead with her heart," Emily says of Michelle, both a professional and personal mentor to her.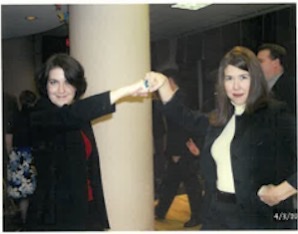 Emily and mentor, Michelle 
Today, Emily values the opportunity to act as a mentor toward others. Her favorite thing about her career is being able to see a person's talent and potential, and then help to move them to the right position that will highlight their skills to the fullest.  
As women enter the workforce today, Emily wants to remind them to not be afraid to take up space.  
"So often women are afraid to speak their mind or share an opinion that is contrary to the norm," Emily says. According to her, success is reliant on different perspectives. 
"A diverse workplace environment is necessary to ensure that all points of view are on the table," she says.  
Emily's experience in the retail world and her passion for serving the community have allowed her to broaden the horizons of the Triangle ReStores, as well as call attention to the need for affordable housing. 
As we continue to celebrate the contributions made by women at Habitat and beyond, we also recognize the ongoing issue of affordable housing and how it affects women in our communities.