Volunteers are the cornerstone of our mission and our success! In short, We Love our Volunteers! Throughout Habitat, we rely on volunteers to help us build homes, communities and hope. Volunteers come with the intent to help others willingly and without pay. We are grateful for all they offer. Many volunteers bring a wealth of knowledge and experience and are eager to share or learn. Would you like to Volunteer with us?
This month, the ReStore recognizes Nancy Adams who is a dedicated volunteer in our Fuquay-Varina ReStore. It is our privelidge to have Nancy volunteer with us and share her talents and enthusiasm!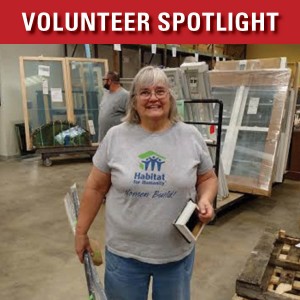 Meet Nancy Adams who is one of our amazing ReStore Volunteers. Nancy moved to North Carolina from New Hampshire 4 years ago. She is retired, has 3 children, 6 grandchildren and is expecting her first great grandchild. Nancy previously worked in the leather tanning industry, as well as at a side scan sonar company.Nancy has faithfully volunteered every Tuesday in  our Fuquay-Varina ReStore since our Grand Opening on October 25, 2014! Staff and customers love her and she is a joy to be around.
Q: What do you like about Volunteering at the ReStore?A: I like being able to help out where required. I like being able to stay busy in my retirement.Q: Why did you choose Habitat and the ReStore as the place you would donate your time?A: My dad always volunteered in the construction phase. When the Fuquay-Varina ReStore opened, I wanted to help out also.Q: What is your favorate food?A: PastaQ: What can you share about yourself? A: I am retired, I like to do small wood projects, knit, crochet and sew. I enjoy being close to 2 of my grandchildren.
Topics: