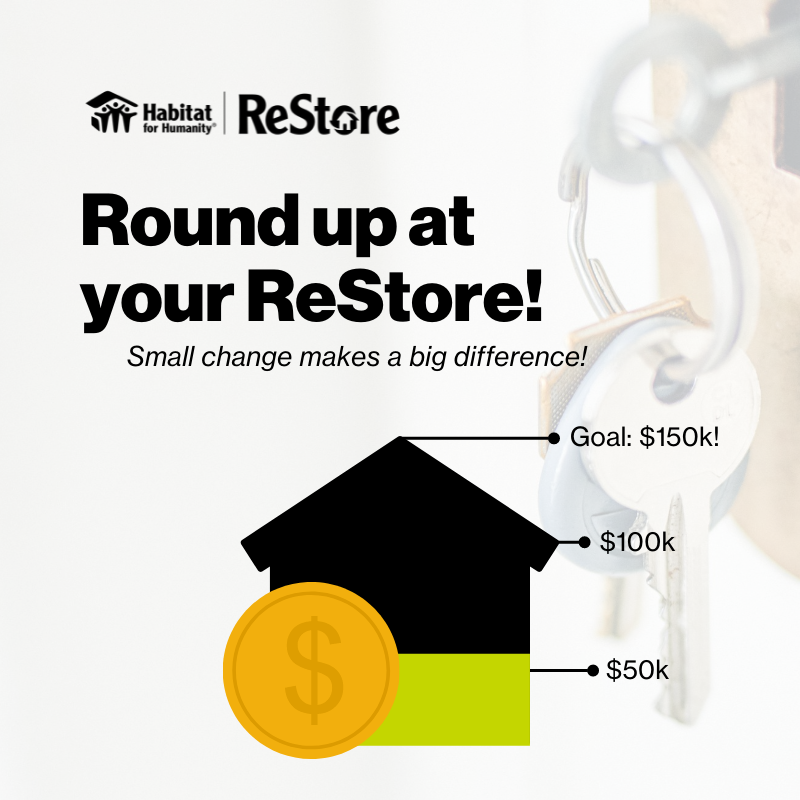 If you've ever shopped at any of the Triangle ReStores, you know what to expect. Great deals, friendly faces and the chance to give a little extra by rounding up at the register.  
At checkout, you have the opportunity to donate your spare change to Habitat. Want to know more about where that rounded up money ends up? The additional change from your purchase goes directly into our mission of building homes, communities and hope. Your support helps to provide local families with the opportunity to become homeowners.  
Habitat Wake operates the ReStores, but the profits go to all three affiliates where our stores are located. When you round up your purchase total at the register, you are supporting Habitat for Humanity of Wake and Johnston counties, Habitat Durham and Habitat Orange, just like ReStore sales do. You can be confident that when you shop, donate and round up at the register, your money is supporting Triangle families! 
Habitat for Humanity builds homes that are made to last and provide cost-saving energy efficiency all while looking fabulous. When you round up, you are helping Habitat build these homes, and make them affordable for your neighbors.  
This fiscal year, the ReStores are on a quest to raise $150,000 in round ups, the cost of building an entire habitat home, by June 30, 2022. With your help at the register, the Triangle ReStores have raised about $55,000 so far! 
To stay up to date with the status of our round up goal, you can simply head to your nearest Triangle ReStore and look for the orange house poster. Small change adds up, and yours will make all the difference!