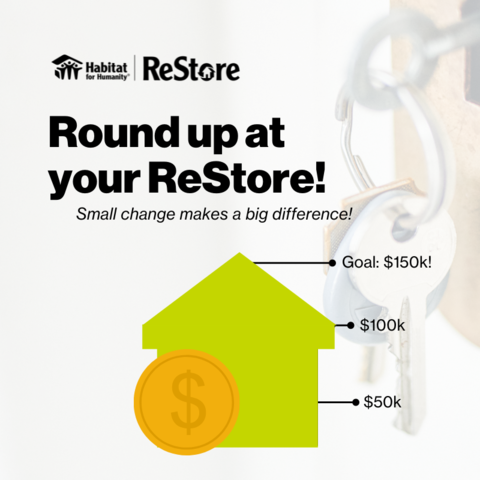 If you've ever shopped at any of the Triangle ReStores, you know what to expect. Great deals, friendly faces and the chance to give a little extra by rounding up at the register.   
At the beginning of this fiscal year, the Triangle ReStores set an intention to raise $150,000 in round-ups, the cost of building an entire Habitat home, by June 30, 2022.  
With your generous donations, the ReStores have met that goal with six weeks to spare!  
The extra change in your pocket has helped to turn local families into homebuyers, and that is no small feat. These dollars, quarters, dimes, nickels and pennies have been added up to cover the cost of land, land development and construction materials needed to build a Habitat home.  
Habitat Wake operates the ReStores, but the profits go to all three affiliates where our stores are located. When you round up your purchase total at the register, you are supporting Habitat for Humanity of Wake and Johnston counties, Habitat Durham and Habitat Orange, just like ReStore sales do. You can be confident that when you shop, donate and round up at the register, your money is supporting Triangle families!  
Habitat for Humanity builds homes that are made to last and provide cost-saving energy efficiency all while looking fabulous. When you round up, you are helping Habitat build these homes, and make them affordable for your neighbors.  
This goal could not have been achieved without ReStore customers, and with your continued help we can work together to build homes, communities and hope.  
One house down, more lives to change.