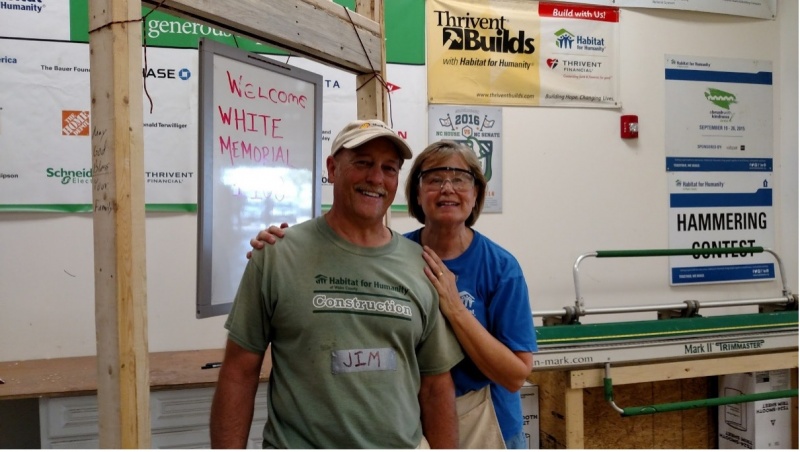 In honor of National Volunteer Week, we interviewed volunteer family Jim and Angela Farthing to find out what they enjoyed most about volunteering with Habitat Wake and the Triangle ReStores. Here's what they had to say:
Q: How long have you and your family been volunteering with Habitat Wake?
A: Jim: Have been volunteering for over 25 years.  I go back to the days of Chuck and Norma. The Habitat ReStore was on Capital Boulevard near the old Farmers Market. I started with the Kirk of Kildare Presbyterian Church working one Saturday a month.   
Angela: Began as a half day Saturday volunteer through the Kirk of Kildare Presbyterian Church 25 years ago. 
Q: Remember your first build day or day in the store… what was that like?
A: Jim: I think the first build day I was on we installed siding.  We mostly only worked on Saturdays.  I don't think volunteers were on site on Thursdays or Fridays as they are now.  Of course, it took longer to complete a house (six months +) as now.
Angela: I recall my first few build days as looking for something other than nailing! I began working when there were painting jobs.  I began working for ReStore about 4 years ago.  I was impressed with the ReStore leaders and the mission.    
Q: What is your volunteer "job" at Habitat? 
A: Jim: I am a Volunteer Leader or what is referred to as a "Green Hat".
Angela: I participate in wall builds when our church is sponsoring an event, will assist on a build when there is a need for painters and volunteer at least one weekday at the Brier Creek ReStore. 
Q: What is a favorite memory or story you have from volunteering?
A: Jim: Back when Jessie had completed her AmeriCorps apprenticeship, she took off for a week and Ed Rogers was filling in on one of her houses.  Jessie tried to keep her tool trailer neat.  Ed took some plywood and placed it a few feet into the trailer and piled up "stuff" in front so that when she opened the door, it would appear to be a complete mess. 
Angela: It would have to be meeting the families and attending the dedication ceremonies. Making our communities stronger by providing affordable and safe neighborhoods is one way to ensure we are making a difference. I also loved working the last Build-A-Thon! Meeting folks from all over and seeing the team work of everyone as a neighborhood was completed, is something I will never forget.  
Being a volunteer at the Re-Store has been fun due to the fact TJ has me working on product lay-outs and I get to be creative.  I enjoy meeting the people that come in to purchase items and when they ask questions about Habitat, I am able to share the mission of the organization.  I have been able to inform my friends to donate to Habitat, as they will in turn support a new home. 
Q: Why do you volunteer with Habitat Wake and the ReStores?
A: Jim: Volunteering is a way to give something back to the community and help others that may otherwise not be able to achieve home ownership. It is easy to throw money at something and expect someone else to do the work, but to give your time and actually see the home take shape is rewarding. 
Angela: Habitat is one of the organizations where you can support families in more ways than one. I'm glad we can provide some financial support, but being part of teams that are impacting our greater community is rewarding and allows me to help make a difference. As a former educator, knowing that children are growing up in a safe place ensures that they will be more successful in school. 
Q: What would you tell someone who might be interested in volunteering?
A: Jim: Take time out of your busy schedule/life, and physically do something for someone else.  Some volunteers have never swung a hammer before, but by the end of the day, they feel a sense of pride and ownership and can see the results as the build progresses.  They may also learn how to properly swing a hammer! 
Angela: There is a place for you at Habitat if you like working with others, helping to make our community stronger.  If you can find at least 4 hours a week to hammer nails, paint walls, or work retail; you will be welcomed! 
Topics: