About Habitat for Humanity
Habitat for Humanity's vision is a world where everyone has a decent place to live. Our mission is to put God's love into action by bringing people together to build homes, communities and hope.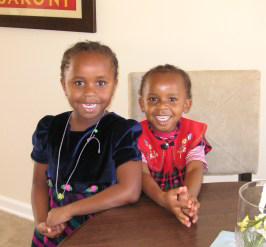 Habitat for Humanity offers homeownership opportunities to families who are unable to obtain conventional house financing. This usually includes those whose income is 30 to 50 percent of the area's median level. In most cases, prospective Habitat partner families make a modest down payment that covers closing costs. Additionally, they contribute 250 hours of "sweat equity" on the construction of their home or someone else's home. Because Habitat houses are built using donations of land, material and labor, mortgage payments are kept affordable.
Currently, there are more than 1,400 Habitat affiliates in the United States and about 70 national organizations around the world which support Habitat efforts to build, rehabilitate and repair homes with those who cannot access conventional home loans.
Community-level Habitat for Humanity affiliates, like Habitat Wake serves a specific area in partnership with and on behalf of Habitat for Humanity International. Each affiliate coordinates all aspects of Habitat home building in its local area. This includes fundraising; building site selection; partner family selection and support; house construction; and mortgage servicing. All Habitat affiliates are asked to tithe a percentage of their contributions to fund house-building work in other nations. These contributions provide much-needed funds for international building and give affiliates the opportunity to demonstrate the spirit of Christian partnership.
In FY2014, Habitat for Humanity served more than 300,000 families – about 1.6 million people – through home construction, rehabilitation and repairs or increased access to improved shelter through products and services.
Just as you can't build a house with only one tool, you can't eliminate poverty housing with only one approach. Nearly four decades into the mission, Habitat's work has expanded and adapted to meet the needs of people in radically different shelter situations around the world. Since Habitat was founded in 1976, more than 1 million families – representing more than 5 million people – have a safer place to sleep at night and a foundation on which to build better lives. In addition to the 1.6 million people helped through direct services last year, another 1.6 million people now have the potential to improve their housing conditions through a wide range of indirect services — from training in construction and financial management to advocacy efforts that change policies and systems to allow more access to shelter solutions.
Together, we are building homes, communities and hope. If you would like to be a part of improving the lives of others, consider volunteering your time and talents, donating financially or donating material goods to the ReStore or being an advocate for safe, affordable housing for everyone.
One person can make a Difference!
Additional benefits that Habitat around the world has delivered in 2014:
Topics: