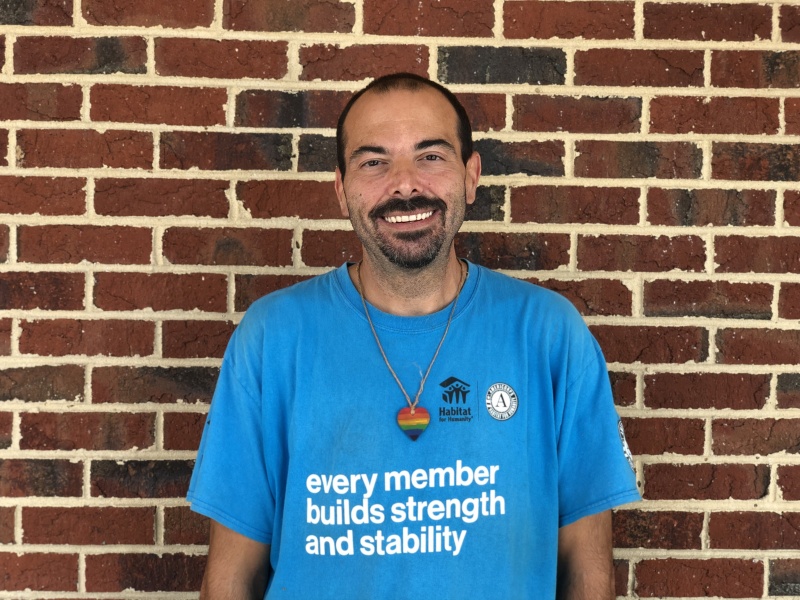 Get to know TJ, our new Brier Creek ReStore manager! Check out a few fun facts about him:
Hometown: Maple Heights, Ohio (a suburb of Cleveland)
When did you start working at Habitat Wake? May 1, 2017, but I started volunteering at the ReStores in October of 2016.
What is your favorite thing about working for Habitat? When I meet one of the homeowners in the ReStore. I always enjoy talking with them and learning how getting a Habitat home has changed their lives. Most of the time it is very emotional and reinforces in my mind the good work everyone that works or volunteers for Habitat is doing for the community.
What is your favorite thing to do in your free time? I sing in the TGMC! I enjoy performing with the group. This summer we had a performance at the Carolina Theater in Durham to celebrate the 50th anniversary of the Stonewall Riots. The theater sold out! We are about to begin practicing in a few weeks for our Holiday show in December.
What is your favorite food?  I'm Italian so....pasta! Red sauce with lots of garlic is a given and pesto is a plus. I also love chips and queso at a Mexican restaurant. I'll eat breakfast for dinner anytime!
What is your favorite TV show? I just started watching Schitt's Creek and I really enjoy it. I also love cooking or baking competition shows, along with anything Sci-Fi or horror.
What are the things that make you smile? Dogs...I love all breeds & I also love my partner! In addition to that, I always have a smile on my face after speaking to families who receive a new Habitat home -- that makes what we do every day feel so worthwhile.
The most unique thing about yourself: At one point I weighed just over 500 lbs. I had gastric bypass surgery in late 2006 and have lost around 325 lbs to date. I'm proud that I have been able to maintain that weight loss all these years later.
Three things that describe you best: Loyal. Mild OCD. Roller coasters!
And last but certainly not least, what are you most excited about in your new role? This is my first time starting up a Habitat ReStore and the process so far has been fun to experience! I'm excited to build a new team in Brier Creek and create a place where our customers love to shop and donate. We are trying out a new business model in the Brier Creek ReStore. About half of the items we will be selling will be things we buy brand new and sell for a discounted price. It is an interesting challenge as we don't have as much experience with selling that volume of purchased product. Of course, we will still have all of the donated items for sale, which our customers are accustomed to. I'm also looking forward to working with a new group of volunteers that we are currently recruiting. If anyone is interested in volunteering at the Brier Creek ReStore, please contact us for more information. Any help is greatly appreciated!