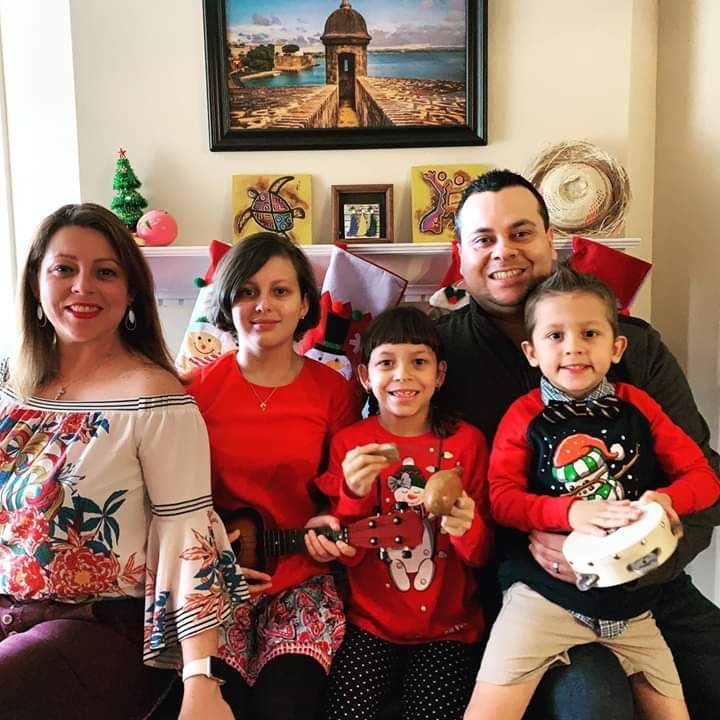 Meet Reynaldo, the new Assistant Manager of the Clayton ReStore! Check out a few fun facts about him:
(Pictured is Reynaldo, his wife and three children dressed up for their family Christmas photo -- how sweet!)
Hometown: Corozal, Puerto Rico
Current town: Raleigh, NC
When did you start working at Habitat Wake? December 2, 2019
What is your favorite thing about working for Habitat? My favorite thing about Habitat is they deeply care about global affordable housing. In today's economy that has to be a top priority in everyone's mind. As a family man myself, I find this to also be my top priority for my children. With God's love, we can accomplish great things in this world!
What does your typical workday look like? Nothing is typical here and I love that I can be accepting donations, helping people around the store, working with volunteers or out in the community helping others. It's truly ever-changing, and I strive to make a positive impact on all the people who come here.
What do you do in your spare time? In my spare time, if I am not enjoying it with my family, I am out at events getting the word out about my passion for coffee through my small business Cafè Rican. Strong Coffee From Puerto Rico!
Do you have any pets or children? I have three awesome children!
Favorite color? Aqua Blue
Favorite food? Mofongo (a traditional dish from my island Puerto Rico) 
Favorite sport (to play or to watch, or both)?: I love to play ping-pong!
Favorite quote: "Life can only be understood backwards; but it must be lived forwards." -Soren Kierkegaard
Dream vacation: Iceland, Switzerland
What are the four items on your bucket list? Snowboarding, beach home in Isabela PR, owning a coffee shop & a rental home in Puerto Rico 
Do you have any strange hidden talents? I am great at bowling!