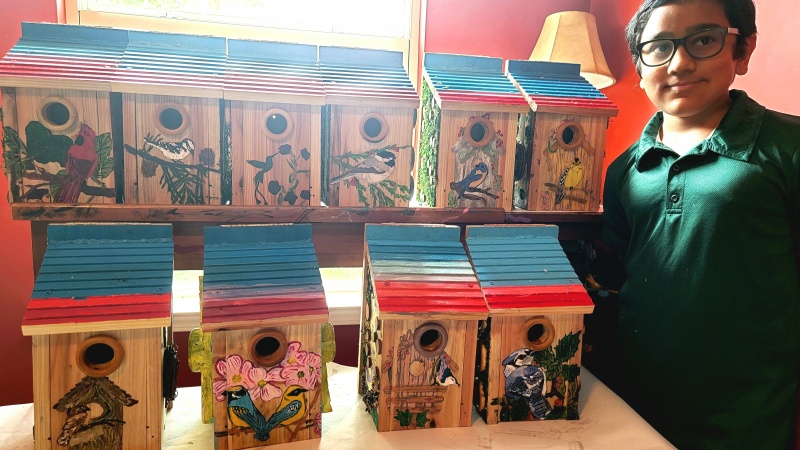 This summer 11-year-old Naveen of a local middle school, created a volunteer project to benefit birds through climate change and Habitat Wake! Ten hand-painted bird houses are for sale in our ReStore that have a message about the impact of climate on our feathered friends. There are five at our Apex ReStore, and the other five are available at our Cary ReStore for $40 each.
We are honored he considered our ReStores to get his creation into the world. In his own words "I chose making birdhouses as birds need a home to shelter in hot global warming days. I want to donate them to Habitat for Humanity ReStores for them to sell with 100% of the proceedings going to Habitat." 
The birdhouses themselves are beautifully designed and painted and have names like "Climate Endangered Chickadees" and "Downy Woodpecker Hole-in One" They also include moss on the outside for cooling, a door to open and clean out nests when the birds are done so they can be re-used and are treated on the outside with raw linseed oil to waterproof them.  
Curious about the blue and red roofs? Naveen explains, "The blue at the top represents the temperature of the Earth in 1900. Every line after that represents the temperature rising and getting redder to present day."  
Anne Polesnak, ReStore Volunteer Manager, says "We are so happy that he chose Habitat for his off-site volunteer project. Not every 11-year-old has the skills to not only design and build birdhouses but also paint beautiful birds on every single one!"