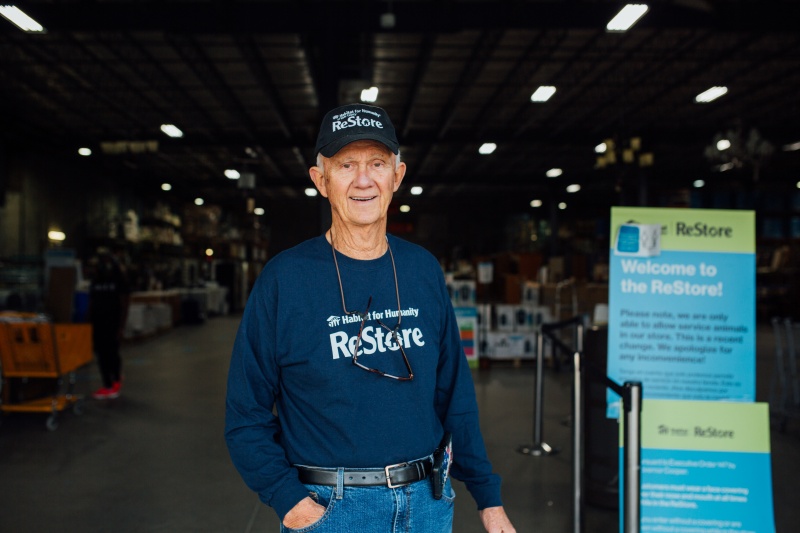 Dog days got you down? Summer heat making you listless? Want to stay cool and be cool? The ReStores are in need of summer volunteers and offer indoor air-conditioned shifts Monday – Saturday at all 10 locations. 
Why does this make me cool?  
Two ways – we'll keep the temperature low (air-conditioning, remember?) and you will also be cool for making a difference in your community! Joining our team is not only good for you, it helps us bring in more donations and sell more product, all of which helps Habitat build more affordable homes in Wake, Johnston, Durham, and Orange counties. 
Why be a summer volunteer with the Habitat ReStores? 
At the Habitat ReStores, we can offer a variety of tasks and roles to volunteers depending on your skillset and interests. We especially need volunteers right now as the stores continue to weather the effects of the pandemic. The support the ReStores offer the local Habitat chapters in the Triangle is also as critical as it has ever been: one in four families in our community is cost-burdened, meaning they are spending too much on housing at the expense of other necessities like food, healthcare and education. When you volunteer with us, you are helping Habitat build strong, sustainable communities. That's a win for everyone! 
How do I volunteer?  
At the half-hour orientation you'll learn about Habitat and the tasks that we need the most help with. Then we'll put you on the schedule for the day that works best for you.  
What can I expect?  
A fun and friendly team of staff and volunteers taking donations, getting them ready to sell and stocking the floor. While these are the main everyday tasks we also have opportunities for you to organize and maintain our lighting, housewares, and book sections (sections in need of care may vary by store).  
A note on our COVID-19 policy as of July 2021: we do not require our staff, volunteers or shoppers to wear a mask. We do recommend that unvaccinated people should wear their mask indoors per the CDC guidelines.  
What can I do as a ReStore summer volunteer? 
If you're a problem solver or Tetris lover you can use your skills to help get our large (sometimes unexpected) donations (like 100 office chairs!) on the floor and ready to purchase.  
If you enjoy connecting with people and learning about DIY or renovation projects you will have a ball working on the sales floor and showing shoppers how to find the treasures they're looking for.