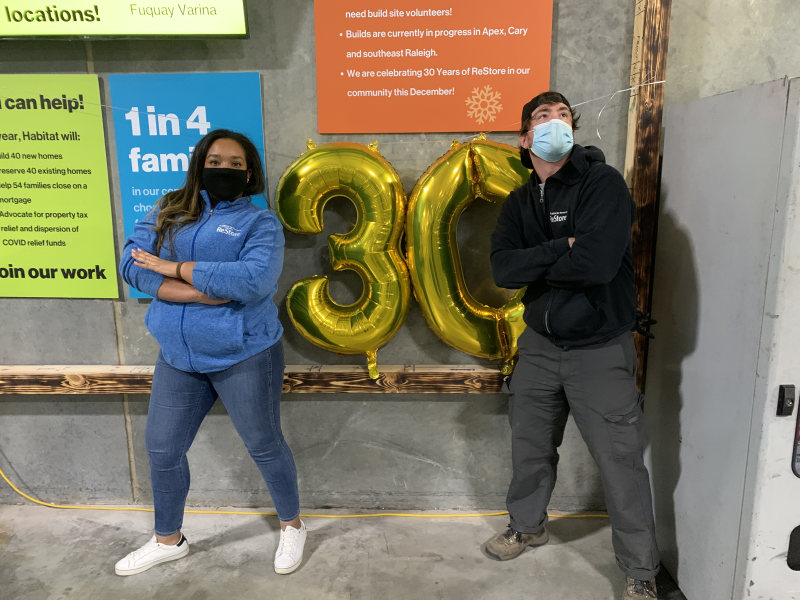 As a part of the celebration of 30 years of ReStores, we've taken a look back at those who helped us get here: our volunteers!  
From the opening of the Habitat Bargain Center in 1991 to the launch of today's Raleigh ReStore in 2007, a handful of volunteers per month could be found in the store. Today, the 10 Triangle ReStores host hundreds of volunteers per month, racking up over 40,000 volunteer hours each year!  
Who are the ReStore Volunteers? 
ReStore volunteers are people from right here in our community: Habitat Homebuyers, retirees, church or corporate sponsor groups, alumni groups, those completing community service hours and others who donate their time to helping further Habitat's mission of bringing people together to build homes, communities and hope.   
Our Core Volunteers are those who donate their time and hard work each week. Two of our Core Volunteers, Cathy and Liz, were on the founding board to create the Habitat Hand Me Ups store in Durham in 1995, which transitioned into the Durham ReStore you know today in 2009—talk about dedication!  
What keeps volunteers coming back year after year? According to them, there's more than one reason. Across the board, our volunteers mentioned the desire to support the mission, the inclusive and collaborative environment and the ability to work on a flexible schedule. The ReStore is a fast-paced environment where there is always something to do, and the work being done directly benefits our community.  
Thank you to the Core Volunteers, the ones that come in once, twice, three times or more every week. The Triangle ReStores are powered by volunteers, and with your help, we have had 30 successful years, with many more on the horizon!  
Click here to get involved in your community today!
A very special thank you to our Core Volunteers listed below. We are thankful for you now and always.  
**indicates volunteers who have worked at two stores 
Apex (opened 2014):  
Tom – seven years  
Phillip – five years  
Graves – three years**  
Mic – two years  
Tammy – two years 
Wes – started in 2021 
Nathan – started in 2021 
Tyler – started in 2021 
Brier Creek (2019): 
Carolyn – five years** 
Manjula – five years** 
John – three years** 
Adele – two years  
Indira – two years**  
David – two years  
Paul – two years  
Sally – two years  
Richard – one year  
Cary (2011):  
Donna – 10 years  
Joyce – 10 years** 
Ron – six years 
James – four years  
Jennifer – started in 2021 
Juan – started in 2021 
Clayton (2018):  
Frank – three years  
Takoda – started in 2021 
Della – started in 2021 
Durham (1995, 2009):  
Cathy – 26 years 
Liz – 26 years 
Franklin – 22 years  
Shelley – 22 years  
Kathy – 12 years 
Joan – 12 years 
John B.– nine years  
Renie – eight years  
Jack – two years  
Indira – two years** 
Peter – started in 2021 
Fuquay-Varina (2014):  
Arleen – seven years  
Kay – seven years 
Vic – seven years 
Becky – five years  
Ed – five years  
Chris – started in 2021 
Melissa – started in 2021 
Santiago – started in 2021 
Tim – started in 2021 
Glenwood Avenue (2016):  
Mark – five years  
Dan – five years 
Dolores – five years  
Joyce – 10 years** 
Megan – five years  
Carolyn – four years** 
Greg – four years  
Mason – two years  
Ann – one year 
Amanda – started in 2021 
Lisa – started in 2021 
OB – started in 2021 
Tina – started in 2021 
Hillsborough (2020):  
Kathe – six years** 
Ginger – started in 2021 
John D. – started in 2021 
Raleigh (1991, 2007):  
Jay F. – started in 2021 
Roscoe – started in 2021 
Tyrone – started in 2021 
Wake Forest (2015): 
Jay P. – four years** 
Jerry – three years  
Mike – started in 2021